NREP partners with proptech AI Spacemaker to maximise daylight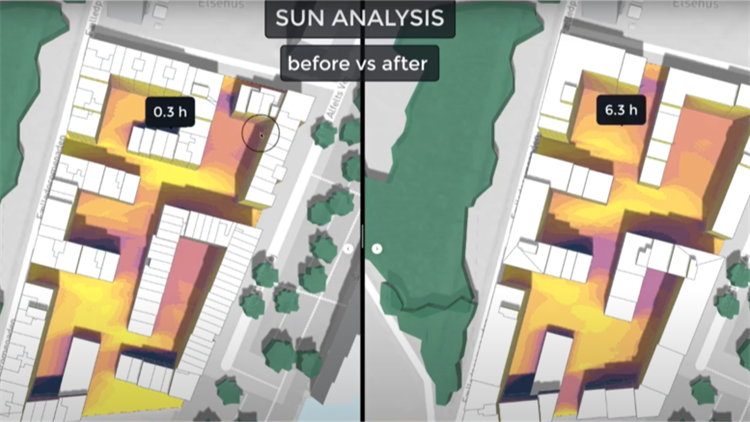 Nordic real estate company NREP is partnering with proptech AI Spacemaker to maximise sunlight and daylight in new build properties.
Pilot projects with Spacemaker's technology demonstrates almost instant data-driven improvements and quicker design processes leading to solutions with more daylight, better views, and a more efficient area use, NREP said.

Claus Mathisen, CEO at NREP said: 'We want to lead the digitalisation within real estate, a sector that traditionally lacks innovation. NREP became early investors in Spacemaker, as we saw the potential in how they implement AI in early stages of the process and the positive effect it brings to urban development.
'With this new partnership, we enable seamless digital collaboration on projects in real time across teams and bring the benefit of AI to the planning of our own projects.'

NREP will be the first company to implement Spacemaker's AI-based tool across national borders in the Nordics, thus further accelerating its focus on new technologies which can help create sustainable, customer-centric urban environments, in a time and cost-efficient way.
One of the pilot projects included the 'UN17 Village' in Copenhagen. With Spacemaker's technology, design proposals that showed on poor daylight or blocked views could quickly be eliminated by 3D visualising these parameters' effect on the building volumes of more than 500 units and 35,000 m2.

The digital tool was used to reach the goal of 12,500 m2 of residential area, for the studio apartments planned for the project. The requirements included beautiful views and good sun- and daylight conditions for all apartments.

'After only a few days of stakeholders reviewing previous proposals, the building plans were approved for change, with improved housing quality as a direct result. For example, by revising and optimising one building, we were able to increase the hours of sunshine in the courtyard from none at all to just over 6 hours' worth,' Mathisen said.

With the new partnership, NREP will now apply Spacemaker's AI platform and digital tools for real estate projects in Sweden and Denmark. On 17 November, the US-based software company Autodesk acquired Spacemaker, including NREP's shares.