Lufthansa disrupts logistics industry with tech-fuelled solution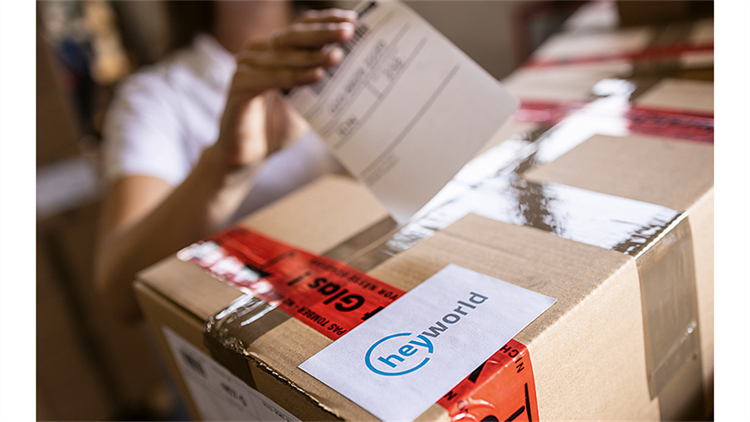 German airline Lufthansa has produced a pandemic success story in the shape of heyworld, its digital start-up within the global Lufthansa Cargo Group.
Acting as a 'digital forwarder', heyworld offers much more comprehensive services than a traditional cargo airline, explains 32-year-old managing director Timo Schamber. 'The main difference with a conventional freight business is at a data level,' he tells Logistics Watch.
The start-up's tech-fuelled model offers a competitively-priced global door-to-door parcel delivery service, leveraging Lufthansa's flight network and partnering with experienced providers on the way. Customers include online merchants and digital marketplaces, but also forwarders who operate in cross-border e-commerce.
According to Schamber, e-commerce customers generally want information down to the individual package level for the entire door-to-door supply chain – including price information. 'This has a dramatic effect on the amount of data that needs to be generated, transmitted and processed by the transport management system,' he notes. 'So heyworld probably shares more characteristics with a software company than with a logistics service provider.'
Schamber adds: 'Being a digital forwarder means we don't have any real estate requirements apart from our warehouse in Frankfurt, the Lufthansa Cargo base. On the partner side, we are focusing on the delivery chain, working with trucking companies, custom agents, airlines other than Lufthansa, and 3PL last-mile providers. Every single part needs to be integrated into our service and we have partners in Asia, Europe, and North America.'
While the heyworld launch predated the pandemic, Covid-19 both accelerated and altered the business model. 'We planned to focus on Europe originally, taking advantage of unused capacity on passenger planes, but there was almost immediate demand for intercontinental services due to the global health crisis,' he notes. Today, heyworld is fully global and is set to stay that way.
'The software is where everything comes together,' Schamber says. 'We started developing the transport management system in early 2019, it was fully created in-house, using APIs to manage end-to-end tracking. The data flow is completely digital, which is essential not only for tracking and customer experience, but also to comply with EU customs rules.'
Another achievement has been heyworld's inadvertent solution to some Brexit-related issues. 'We have an automised process to figure out the correct HS codes, the description of products, and the right tariffs, and we've built up a sizeable database. Since Brexit, we are offering a solution for EU vendors exporting to the UK which includes duty draw-back for returns, which is not typical. This complete digital solution has proved extremely attractive to the market and some of Europe's biggest fashion groups are taking advantage of it to work round Brexit.'