Henley leads $5m Series-A investment into Lavanda
In News
21:17, 26 September 2019
608 Views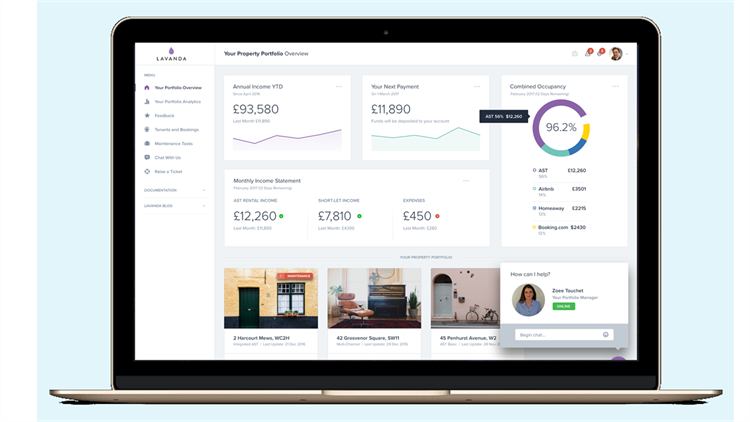 Lavanda, the pioneering technology platform enabling institutional real estate portfolios to profit legitimately from Airbnb-style homestays and homesharing, has secured a $5 million Series-A round led by Henley Ventures, the venture arm of global private equity real estate investor Henley Investments.
The investment sees Justin Meissel, Henley CIO and MD Europe, joining Lavanda's board where he will sit alongside Harry Hill, founder of Rightmove, as non-executive director.
Lavanda's award-winning software-as-a-service (SaaS) platform provides residential landlords and asset managers with a toolkit to enable them to execute high-yielding, hospitality-led short and medium term rental strategies uniformly across both domestic and international portfolios. A key feature of the platform is the flexibility that it offers customers; users can choose to manage operations themselves in-house, or alternatively tap into a curated marketplace of best-in-class local management companies operating within the Lavanda ecosystem.
Lavanda further optimises the performance of vacant or under-performing units throughout a building's lifecycle; from the initial lease-up of newly developed schemes through to stabilisation and beyond. The company has found strong traction across multifamily, build-to-rent (BTR) and purpose built student accommodation (PBSA) sectors where it has managed to successfully increase net operating income (NOI) by up to 20% across the assets where Lavanda has been introduced.
There are currently over 10,000 units managed on the Lavanda platform and customers include some of the world's best known real estate portfolios and managers - including JLL, Aberdeen Standard Investments, Savills, LaSalle, Long Harbour and Europa Capital.
Additionally, Lavanda enables local hospitality companies and property managers to grow their business by participating in its platform, through which partners are able to earn accreditation and compete to win a steady stream of compliant units to manage. The company has partnered with 35-plus management companies to date.
Justin Meissel, Henley CIO and MD Europe, commented: "Lavanda legitimises and institutionalises short and medium-term rental options for commercial landlords, providing a best-in-class technological solution. As owners, operators and developers of over 10,000 residential units, Henley have first-hand exposure to the income uplift potential driven by Lavanda's model. Henley Ventures is pleased to be supporting Lavanda and their top notch team as their business goes global."
"Traditional hospitality, travel and real estate industries are converging fast," comments Guy Westlake, founder of Lavanda. "By providing landlords and developers with the missing technology toolkit to harness this global trend, Lavanda unlocks a new wave of innovation for residential real estate. Partnership with Henley and their investment into the business enables us to take a major step towards realising our vision; to become the de facto technology platform powering a compliant global short and medium-term rental ecosystem."
The deal represents Henley's sixth venture investment in the last 18 months as the group continues to broaden its investment platform. Henley CEO Ian Rickwood explains "our global investors are hungry for both a mix of stable income producing RE assets, but also participation in the best ideas from smart, fast growing companies. The broadening of our platform provides them with that diversity but also with the comfort and security of a fully structured Henley vehicle. It also fits well with our mantra of 'entrepreneurs backing entrepreneurs'."