Get smart
In PropTech
12:50, 07 June 2019
568 Views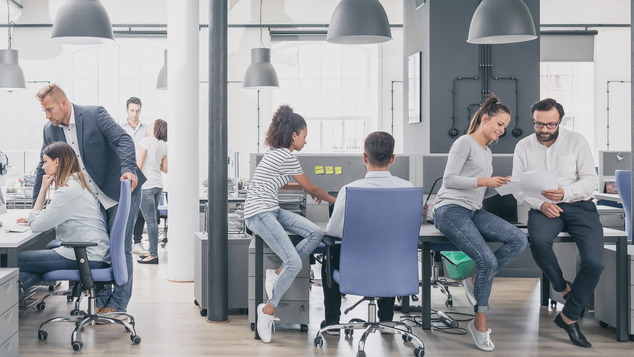 In the war for talent between businesses, the smart experience of the workplace is vital, says Akshay Thakur, Head of Smart Solutions EMEA at JLL.
"Experience is everything, data is the new currency." That's how Akshay Thakur, smart buildings expert at JLL, sums up what is happening in the field of "smart buildings". Or rather, "smarter" buildings, because it's about "adding to the smarts that are already in the building", he says.
Thakur, who joined JLL two years ago, has a background as software engineer and worked for many years at CISCO, where he was responsible for finding new, disruptive ways to use IT and 4G/3G networks. He noticed that the real estate sector was slow to change. "The traditional vendors were all creating their own ecosystems, largely among themselves, trying to prevent small companies from cracking into their territory. Data was locked and siloed".
For Thakur it was clear that the future of buildings would be in open systems. He distinguishes three levels in a smart building. "First there is the underlying level: the platform that deals with energy management and other operational parts. Then you overlay that with a smart workplace, either from a tenant or an owner perspective. Here you look at things like, how do you utilise the floor plate most efficiently? Thirdly, there is the experience level, which comes in the form of an app or smart device. This will allow users to book a room, find a colleague, provide feedback, and so on."
JLL helps design smart buildings in a modular fashion, says Thakur, to ensure integration of these three levels. "When a tenant occupies a building, they must be able to implement their own systems and interact with the base building systems. That means the systems must have open, standard interfaces, that can easily talk to each other and allow for integration."
Ultimately it's about the "smart experience" of the users. "With the war for talent going on, the experience is vital." Here the office developers still have work to do. "At the moment we use more technology in our homes than in our offices", says Thakur. "That's kind of ironic. It should be the other way around."
That's what JLL is trying to change. At JLL, says Thakur, "we don't know yet whether in the end one app will rule them all, or whether there will be multiple apps. But we are convinced that apps are a key aspect of modern buildings and we are developing those apps for our clients."
One example of a smart workplace that JLL was involved in recently is the new McDonald's smart headquarters in downtown Chicago, which was opened in March 2019. "The company wasn't looking for a smart building", notes Thakur. "But they wanted to attract new types of staff; more tech savvy, younger. We were involved in the integration design which allowed us to augment the building with an employee app and a visitor app. The employee app allows staff to book rooms, locate amenities and other people, to provide feedback on their experiences, and lots of other things."
Thakur is convinced that the trend toward smarter buildings and apps has only just started. "At the moment, applications are still quite vanilla. When I use an app it does not do anything bespoke for me, until I profile myself into the app, and then there may be some personal suggestions. In future apps will become much more personalised. For example, you may have been emailing with a colleague and discover he works near you and that you might as well have a coffee together to talk things over instead of emailing each other. There has to be value in it for users. We will be willing to share our own data if we find this brings us value."