Eye-openers - Top Picks
In News
11:04, 07 June 2019
451 Views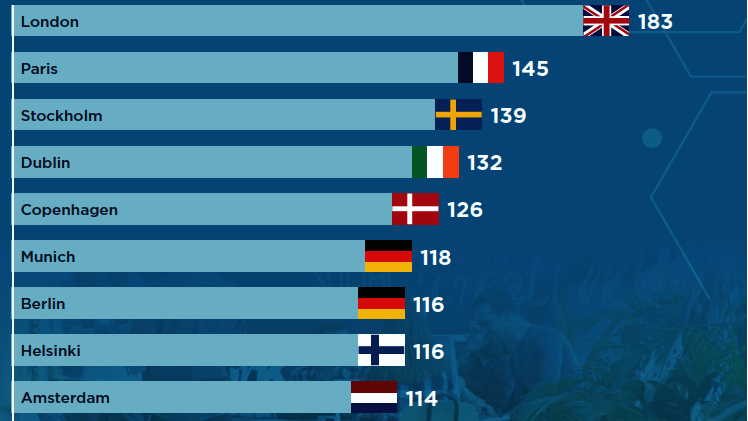 Our editor's selection of stories from the broad world of proptech covered in the most recent issue of Firestarters magazine
European Coworking Hotspot Index foresees stormy growth
In a few years from now, 10 to 15% of office space in some European cities could be devoted to coworking, according to research from Cushman & Wakefield.
Coworking space represents around 1% of global office inventory today, but the market looks set for strong growth, or so it appears from C&W's new European Coworking Hotspot Index, published for the first time in April 2019.
In Europe's major markets, coworking already accounts for 2% of office space. In Amsterdam the number is 6%. In London, coworking accounted for 16% of new office leases in 2018, notes C&W. WeWork is now the largest private office tenant in London.
According to Greg Mansell, consultant at C&W and one of the authors of the Index report, the coworking market could reach levels of 5 to 10% of the US market in the near future. Europe could easily follow, he says.
For the European Coworking Hotspot Index, C&W investigated 40 European cities to find out which have the most "coworking potential".
This was done by an analysis of a number of "quantifiable factors" such as the amount of office stock available, digital infrastructure, flexibility of the labour market, internet speed, average length of a standard lease (a "key push factor" for coworking), the number of start-ups and accelerators, spending on R&D and the type of companies and organisations present in the cities (relevant because, for example, ICT employees are more likely to be open to coworking than bank employees).
The Index report makes a distinction between "generalist" and "specialist" coworking operators. The generalists "simply aim to create a place for like-minded people to work collaboratively, offering an alternative to home offices and working in coffee shops." The specialists "aim to appeal to tech or creative fields and put themselves at the centre of the fastest growing industries."
Mansell says that "both approaches are likely to grow", although for the generalists "it will be easier to roll out their format across Europe. Operators connecting this approach to hospitality level services will be able to achieve higher retention rates, higher user satisfaction and more durable demand."
By contrast, the specialists could more easily achieve growth in their locations. Many "have expanded their services to include business administrative support and some have developed successful corporate event businesses." Specialist coworking space could increasingly take the form of specialist uses such as research centres and science parks, notes the report.
Star-shaped cities are the most climate-friendly
Restructuring the landscape of big cities may be key to a successful climate policy, according to a study by German research institute MCC. "Cities should ideally take on a star-shaped form, with well-distributed green spaces to balance the opposing needs for dense structures and CO2 savings, while maintaining open spaces that can deal with the effects of a changing climate, such as heat waves," reports Clean Energy Wire.
"Our model shows that the best way to develop a settlement area is not to develop it in a radially symmetric but in a star shape, organized around linear transport axes and with as much greenery as possible," MCC researcher Felix Creutzig said.
WeWork launches €2.6 billion investment venture
WeWork's parent firm, The We Company, has launched a $2.9 billion investment acquisition platform, ARK, to buy and develop commercial property around the world.
The venture represents a significant strategic shift for the hitherto "asset light" business. WeWork founder Adam Neumann told Bloomberg the firm was betting on the idea that properties become more valuable when occupied by WeWork.
WeWork was valued at about $47 billion in a private fundraising round in January, as it heads towards what may be the year's largest IPO after ride-hailing firm Uber.
iFunded real estate investment platform accepts bitcoin
iFunded is the first real estate investment platform in Europe on which investors can invest in real estate not only in euros but also in crypto-currencies.
With the acceptance of crypto currencies as means of payment international investors can invest simply into German real estate projects, says iFunded.
As with payment in euros, investors must prove their identity when paying with crypto currencies and go through the so-called know-your-customer process at iFunded, the company has said.
BNP Paribas takes Magic Leap
BNP Paribas, through three of its business lines - Real Estate, Corporate and Institutional Banking, and Wealth Management – is launching the possibility to hold teleportation meetings in five locations: Hong Kong, Dubai, London, Frankfurt and Paris. Each business will be equipped with Magic Leap Ones, a lightweight, wearable spatial computer, to conduct collaborative meetings remotely.
In collaboration with Magic Leap, the pioneer of spatial computing technologies, and Mimesys, a French and Belgian startup that develops leading spatial co-presence platform, BNP Paribas Real Estate will implement this solution which was tested over a one-year period.
As a first step, the technology will allow various types of clients of the bank, particularly those of Corporate and Institutional Banking and Wealth Management, to be offered real-estate investment opportunities via a hologram with the BNP Paribas Real Estate teams. For example, a client in Hong Kong or Dubai could be in contact, via a teleportation meeting, with an expert consultant in London, Paris or Frankfurt and interact with virtual objects. The marketing of real estate anywhere in Europe will thus be facilitated by being both faster and more cost-effective, and the environmental impact of travelling will be limited.
Technology tsunami
"A technology tsunami is rolling over residential real estate. It's already washed over low-lying areas such as information, communication, and search. And it's moving to higher and higher ground: operations, brokerages, property maintenance, and construction. The role of the real estate agent will change, and most traditional brokers will be gone in ten years' time."
Pete Flint, founder of Trulia, managing partner at NFX, quoted in the book PropTech 101 by Zach Aarons and Aaron Block