Bouwinvest: "Sustainability and technology form a wonderful combination"
In PropTech
09:45, 07 June 2019
913 Views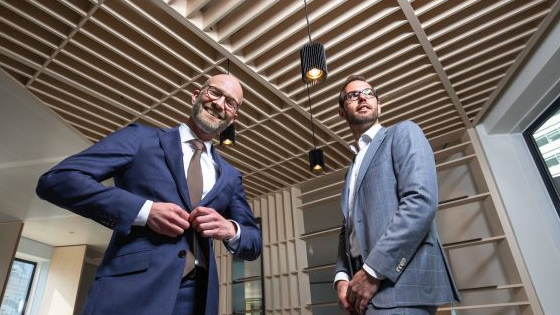 For Bouwinvest sustainability and innovation are two sides of the same coin
Bernardo Korenberg and Micha Reusen of Dutch institutional investor Bouwinvest have the same title on their business card: Head of Sustainability and Innovation. For Bouwinvest sustainability and innovation are two sides of the same coin. "We see them as the key to the future-proofing of our organisation and investments."
With a global portfolio of €11.3 billion, Bouwinvest, founded in 1952, is one of the biggest institutional real estate investors in the Netherlands. Its clients are mainly pension funds. "They want to see their money invested in real estate that is future-proof", says Bernardo Korenberg, one of the company's two full-time Heads of Sustainability and Innovation.
When the position Head of Sustainability and Innovation was created within the company two years ago, the first thing Korenberg and his colleague Micha Reusen did was to make an inventory of all sustainability and digitalisation projects going on inside the company, to share experiences and look for new solutions. "We concluded that sustainability and technology form a wonderful combination", says Reusen.
Korenberg and Reusen discovered there were a lot of projects already being undertaken, but there was little connection between them. They identified three "tracks" on which they believe new technology is most applicable: Experience, Circularity and Work.
"The first track, Experience, is about improving the experience of shareholders, tenants, users and employees", says Reusen. "The second is that of Circularity, the broad sustainability of the buildings in our portfolio. The third track is Work: how can the organisation grow, better manage processes and ultimately make better decisions."
"If we find an innovation or technology that can be applied to one of these three tracks, we will certainly start a conversation. We are especially interested if it connects to multiple tracks," says Korenberg. "We see it as our job to boost innovation internally, to share experiences and to look for new solutions."
Within the company, Reusen focuses in particular on working with start-ups, whereas Korenberg explores developments in the market, both in the Netherlands but also very much abroad.
Smart contracts
Bouwinvest currently has more than 20 experiments underway with various Dutch and international start-ups. "Our starting point is not technology", says Korenberg, "but either opportunities within our innovation tracks or a real problem that we encounter and for which we are seeking a solution. So it's not that we look at blockchain and see what we can do with it. The starting point is, for example, improving the customer experience with smart rental contracts. If blockchain technology is suitable for that, fine. But it can also be a different technology."
If the two men come across an interesting idea, or an interesting start-up, they first try it out, and try to improve it. "If the experiment is successful", says Reusen, "we will scale it up within the portfolio. Depending on the success, we then examine whether it can also be used in other investment objects and sectors."
One of the experiments they are currently conducting is with a Dutch company called Hello Energy, which has developed a tool that allows users of a building to see on screens and apps what their presence means for energy consumption. Reusen: "It is an engagement tool to make users aware of their footprint and thus encourage sustainable behaviour. But the app can show much more information, for example departure times of public transport or how many rental bikes are still available in some place."
Other projects are with Parkbee, which has developed a tool to use empty parking spaces, and another Dutch startup, Chainels, which has developed an online community platform for B2B communication in retail areas. Bouwinvest is now using the Chainels app in WTC Rotterdam to build a community between the dozens of tenants and users in the building.
Predictive forecasts
Data obviously play an important role in the innovation process. "Thanks to data, for example, we are able to put detailed and accurate maintenance tenders in the market", says Reusen. He explains that in the past, a painter would come and make a rough estimate of the size of a facade – naturally giving a quote that was on the safe side. "Now, we have a database with an extremely detailed description of the building, down to centimeters. The painter can use this to make a much more accurate calculation and therefore a more accurate quotation. We expect that this will make maintenance cheaper."
The next phase, says Korenberg, is to move to predictive forecasts based on data. "That is why we are investing in an innovative data platform. This links open source data to our own data and enables us to process and analyse large amounts of data quickly. It results in optimum investment decisions for our property portfolios."
As an example, he says "we have now started to investigate how we can benefit from the financial benefits of circularity. For example, if materials can be reused, you get a different valuation of a building. That is why we have started an experiment with Madaster, a Dutch company that develops databases of materials used in buildings and translates this information into financial value."
Solar panels
Some investments in sustainability may seem no-brainers, but in practice innovations often run up against regulatory obstacles. "We are currently installing solar panels on the roof of a shopping centre", says Reusen. "That may not seem very revolutionary. But I can assure you that there are a lot of practical, technical, fiscal and commercial obstacles when an owner wants to install solar panels and wants to supply the tenants in the mall with green electricity. In collaboration with food retailer Albert Heijn we have now developed a lease contract for the panels, enabling them as tenant to provide the store with locally generated electricity. Our legal department had to design an entirely new contract for this."
Not that Bouwinvest necessarily wants to be a frontrunner in new technology. Korenberg: "Our aim is that by 2021 at least 75% of our investments will have above average sustainability. We are convinced that innovations can help us with this. That is why we want to further increase our involvement in innovations and proptech."
Bouwinvest Real Estate Investors employs around 200 professionals. They realise an annual transaction volume of €800m. In 2021 the investment portfolio will hit €15.3bn. "We are big enough to make a difference in the markets in which we operate but small enough to know our clients personally", say Korenberg and Reuser. Bouwinvest has investments in the Netherlands and across Europe, North America and Asia.