15 finalists confirmed for Proptech Innovation Award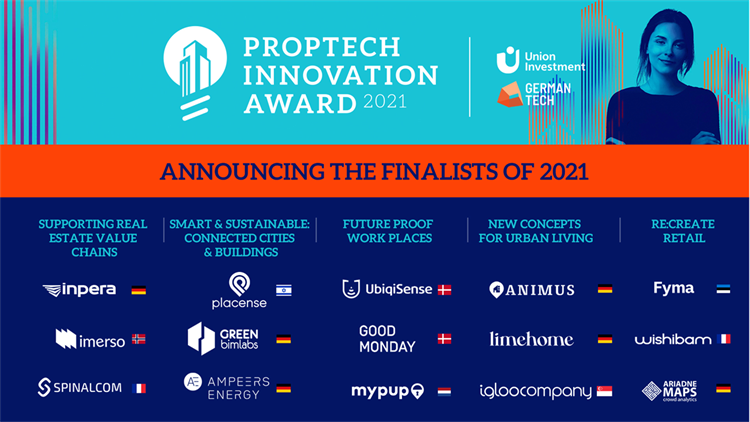 An international jury of seven experts has selected the 15 finalists for the PropTech Innovation Award, backed by Union Investment and Germantech.
Under the slogan 'accelerating the real estate evolution', prizes will be awarded for the best digital solutions and business models that address the most pressing issues facing the real estate industry in the post-coronavirus era.
Some 180 digital innovators - startups as well as established companies - from 40 countries had applied in the following five categories: 'future-proof work places', 'supporting real estate value chains', 're:create retail', 'new concepts for urban living' and 'smart & sustainable: connected cities and buildings'.
Christoph Holzmann, chief operations officer of Union Investment Real Estate said: 'The coronavirus pandemic has significantly accelerated structural change in the real estate industry.
'The digital innovators from the proptech scene can give us the boost we need to operate even more efficiently in a number of key areas.
'That could include speeding up valuation and decision-making processes, for example, or implementing regulatory sustainability requirements. That's why we're really looking forward to the exciting category sessions with the 15 finalists.'
On 23 June, the successful finalists from a total of eight countries will livestream their concepts at the PropTech Innovation Summit, which is being organised by Union Investment and Germantech for the fifth time.
Each of the five category sessions will be led by a partner company with the relevant professional expertise: Bosch, The Class Foundation, Cushman & Wakefield, Drees & Sommer and iMallinvest. The audience will vote online to choose the winners of the five individual categories.
These top five startups will then compete against each other in a final pitch to secure one of the main prizes, which total €40,000. The three overall winners will be selected and announced by the jury live at the event.
Maria Gross, managing director at Germantech added: 'In the second year of the pandemic, we've seen how diverse, creative and highly solution-focused the majority of the applicants were.
'This creativity and determination to confront issues constructively is inspiring, and should serve as an example for other sectors too.'
The PropTech Innovation Summit will be livestreamed from Hamburg on 23 June. Anyone can join the event online.