'Light waves' replace office WiFi in first for CEE region
In PropTech
21:57, 09 July 2019
2491 Views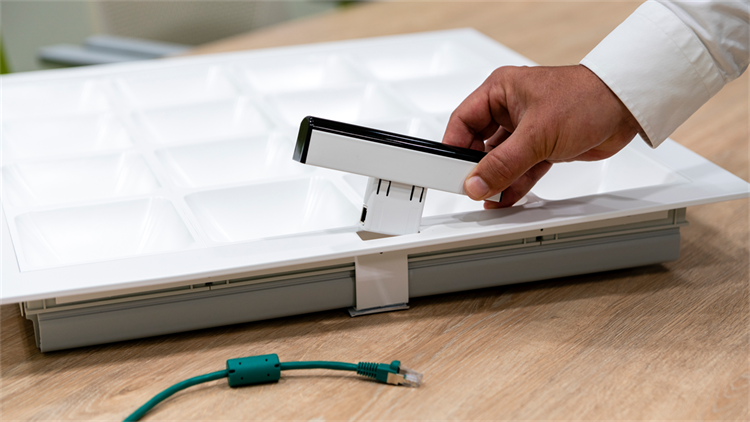 Wireless communication technology which harnesses light waves instead of radio waves to connect devices, is being used for the first time in Central and Eastern Europe (CEE).
The technology, named Trulifi, is operational in an office building called Spektrum Tower in Warsaw, Poland. Owner Globalworth installed it in partnership with Signify – previously Philips Lighting.
Trulifi uses light waves to carry information instead of radio waves, which popular technologies such as WiFi, 4G/5G and Bluetooth rely on. Light waves provide wireless connectivity at up to 150 megabits per second, its developer claims, which is far speedier than usual.
The proptech comes in the form of small wireless transmitter-receivers which plug into lighting units made by Philips. To jump on the so-called 'Lifi', a user has to connect a USB receiver to a laptop which acts as a transmitter to send data back to the mount. The lighting units also adapt to the rhythm of the human biological clock by dimming or brightening depending on the time of day.
Radoslaw Buczkowski, head of Signify's design department, said: 'While radio frequencies are becoming more and more congested, the light spectrum is an untapped resource with large band width.
'Trulifi guarantees ultra-fast, reliable and stable data transmission. Being a lighting company, we ensure that our customers benefit from the finest quality energy-efficient light along with state-of-the-art connectivity.'
Grzegorz Strutynski, commercial director at Globalworth Poland, said: 'We want to deliver not only modern office space in excellent locations but also new technologies that make it easier and more comfortable to use those spaces.
'Due to these needs, we started cooperation with Signify on the first implementation of Trulifi technology in the CEE region. It offers not only the fast and secure Internet connection but also a high level of data security.'