MDB and Vlot Logistics team up on green construction site solution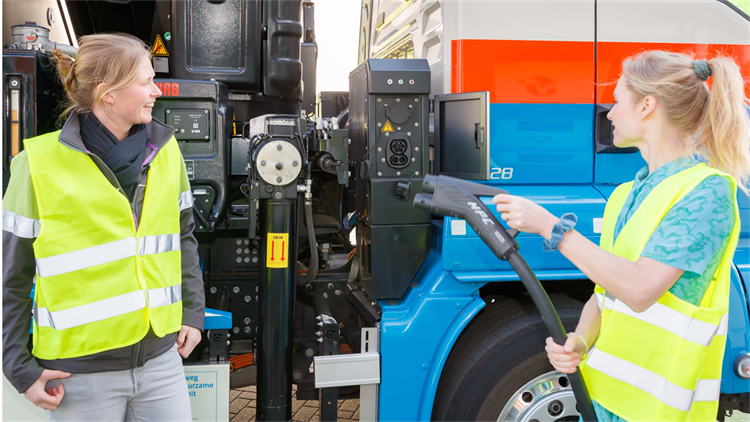 Dutch storage, distribution and transport specialist Vlot Logistics has teamed up with construction site equipment supplier MDB to drive forward zero emission technology for building sites.
The partnership is deploying a mobile energy storage system with a fast charger for vehicles and equipment, to promote the use of electric trucks on construction sites, and improve community accessibilty to fast-charging points.
The 300kW fast charger is used to charge electric trucks while they are unloading materials on the construction site, facilitating the use of clean vehicles.
The charger is installed on location in combination with a mobile energy storage system from Alfen. This energy storage system, a container filled with 442 kWh of battery capacity, is an extra power unit that provides support for charging the electric truck as well as for further electrification on the construction site.
This includes the replacement of diesel generators or the charging of electrical construction machines, without causing noise nuisance in the neighborhood. The mobile battery is powered by a 63 Ampere connection, something that is often readily available on construction sites, so that no heavy grid connection is required.
The fast charger is not only available for emission-free trucks, but also has a public character, MDB said. By placing the fast charger in the construction fence, it can be charged on the side of the public space by electric vans and cars from the neighbourhood.
In order to protect the fast charger and to move it easily after construction is complete, it is placed in a skid, or open container frame. The fully electric crane truck with trailer from Vlot Logistics can simultaneously transport the mobile battery and fast charger to the next construction site.
MDB director, Jos Huijzer, said: 'Due to the project duration of a construction project, it is often not logical to work with temporarily reinforced grid connections. This mobile power unit with fast charger therefore offers a solution in several areas and thus not only contributes to our ambitions to reduce emissions to and on the construction site, but also those of TBI in its entirety of companies.' MDB provides equipment to Dutch construction group TBI.