Could Covid-19 push WeWork's flex model to breaking point?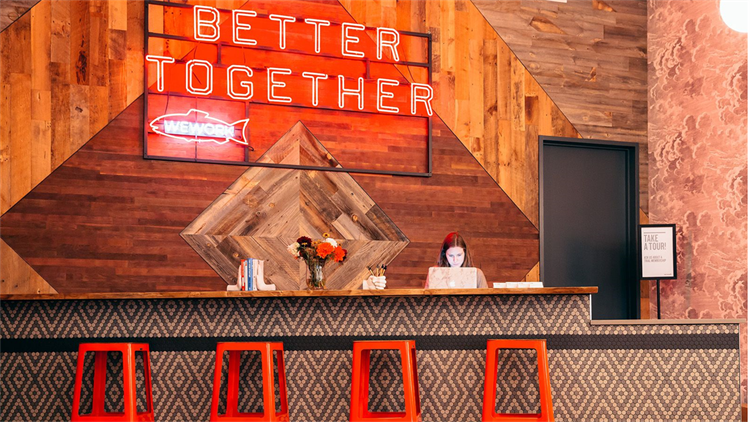 Flexible office provider WeWork is facing increasing pressure to shut down its co-working spaces around the globe, as the exponential rise of Covid-19 shines a spotlight on workplace risks.
Coronavirus cases arising in WeWork shared offices from London to Los Angeles to date have resulted in management sending in cleaning firms and temporarily closing floors, although the firm has been reluctant to shutter its offices for the duration of the crisis, despite criticism from members.
WeWork's website reveals both its coronavirus response and lists building closures, but the latter is a surprisingly short list.
There are no closures in Europe, for example, despite the latest round of lockdown measures - particularly in countries like France, Italy and Spain - making it impossible for many of its members to access facilities. Nearly 50 offices have been shut in India, in cities ranging from Hyderabad to Mumbai, while in the US, just two facilities have been closed in Los Angeles.
WeWork said its decision to not shutter more locations was due to the fact that it was 'home to many members whose companies are essential businesses to our society – whether they be in healthcare, insurance, cleaning product supplies or others'. However, its internal and member events have been postponed until further notice.
Across its offices, WeWork said that it had a 'robust global emergency preparedness plan in place in the event any member or employee has contracted the coronavirus' and had strengthed on-site cleanliness measures, from the distribution of hand sanitiser dispensers to the increased frequency and scope of daytime cleaning.
Its own employees are subject to a 'work from home' policy as of 12 March, with reduced staffing on its sites, although the New York Times reports that the firm has offered a $100 a day bonus to employees that continue to show up to run its locations.
Rollercoaster
WeWork has had a rollercoaster 18 months, seeing its IPO hopes collapse and chalking up considerable losses as it pursued growth at all costs - including haemorrhaging $1.9 bn against revenues of $1.8 bn in 2018. But the costs may yet prove fatal, with WeWork famously vulnerable to a business model which allows its members to stay for as little as a month, in premises which WeWork has on average secured for 15-year lease terms. Some 26% of its members only renew month-to-month.
Its losses have not shown signs of abating, topping $2.6 bn by the third quarter of last year against revenues of $2.4 bn, according to a report issued to its creditors. The firm has not revealed financial information since. In November, WeWork laid off 2,400 of its around 12,500 employees.
In mid-March, Japanese conglomerate SoftBank told WeWork it might not buy back $3 bn of shares from existing investors as planned, after finding a loophole which may enable it to step back from its pledge, according to the Wall Street Journal.
WeWork hired Brookfield Properties' former boss Sandeep Mathrani as chief executive officer as of 18 February, but the experienced executive, who has worked extensively in retail for firms including Forest City Ratner and GGP, will have his work cut out in the coming months.
Yet the Covid-19 scenario is equally troubling for WeWork's rivals. New York headquartered Knotel, which reached a valuation of $1 bn last year, laid off or furloughed 195 of its 400 employees 10 days ago after reporting that 80% of its members were working remotely.